Posted by
muhammad najmie
on 5:23 PTG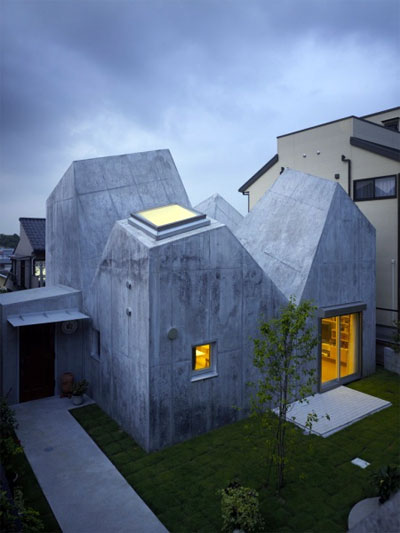 Origami is a traditional Japanese art of folding paper. The purpose of this fine art is to focus on transforming a flat sheet of paper into a sculpture. The principles of Origami are also being used in architecture and this House in Konoku is a living example.
In Yokohama, Japan, an unusual concrete house rises from the ground as an inhabitable origami… Designed for a married couple, this refreshing conceptual building has 65 sq. m. of constructed area cleverly disposed on two levels.
The site is located in a calm residential region with neighboring houses lined in a very close position. Since the site is facing north and the neighboring house to the south is two-storied and built on a higher ground, an ingenious solution was adopted to bring daylight into the heart of the house: chimneys of light that bring natural illumination and ventilation to the open interior space!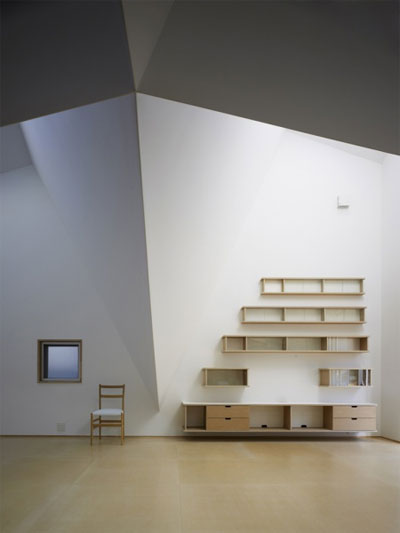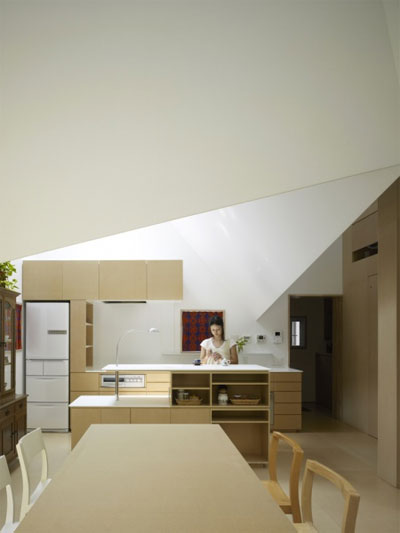 The shapes of these concrete chimneys are clearly revealed inside where the edges of a folded plate roof softly separate the entire residential space. An entrance hall gives access to an unconventional program distribution, where spaces like kitchen, living room and bedroom aren't physically divided…even a loft space is available in a higher level but not after the inhabitants have enjoyed climbing an unusual wooden staircase.
The concrete surface of the exterior is balanced by the white painted walls and ceilings while the floor and the built-in furniture are made of medium-density fiberboard with a warm paint finish. This house is truly a remarkable piece of architecture…